I had written yesterday that I would post the "New Beginnings" meditation that I used when I did my version of a house blessing for the condo I'm renting. I've decided to post that on another day. Instead, I will write about these gorgeous traditional Thai desserts that I saw in the mall.
Thai desserts are known as Khanom Wan Thai (ของหวานไทย). I have to thank Migrationology.com for all the translations and descriptions below. Like when I wrote about Thai breakfast food, I'm not 100% sure that I've correctly identified the desserts, so forgive me for any mistakes. Regardless of the actual names though, everything looks so delicious, and impossibly hard to resist.
The first desserts that caught my attention were these sweets below that I think are Tong Yip (ทองหยิบ or Flower Egg Yolk Tart), or some variation of it. Tong Yip is egg yolk, sugar, and flower water boiled in sugar syrup and formed into flower like shapes, and the ones below are a bright orange color.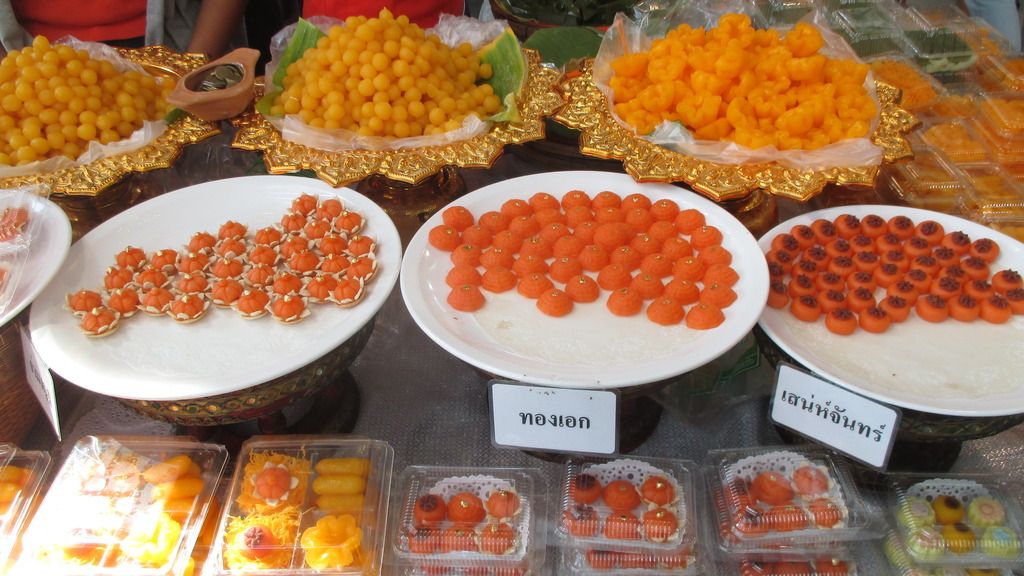 Also very brightly colored, this time in pink, is what I think is either Woon or Taptim Grob. Woon is Thai for jelly (วุ้น), and Taptim Grob is Water Chestnuts in Coconut Soup (ทับทิมกรอบ). It might be a combination of both. The pink, green, and white glass dessert below the mangoes are Salim (ซาหลิ่ม or Glass Noodles in Sweet Coconut Milk), and what looks like shiny green beans at the bottom of the photo are I think Look Choop (ลูกชุบ or Mung Bean Candy), which is made of smashed and sweetened mung bean paste formed to look like fruit and glazed in sweet candy.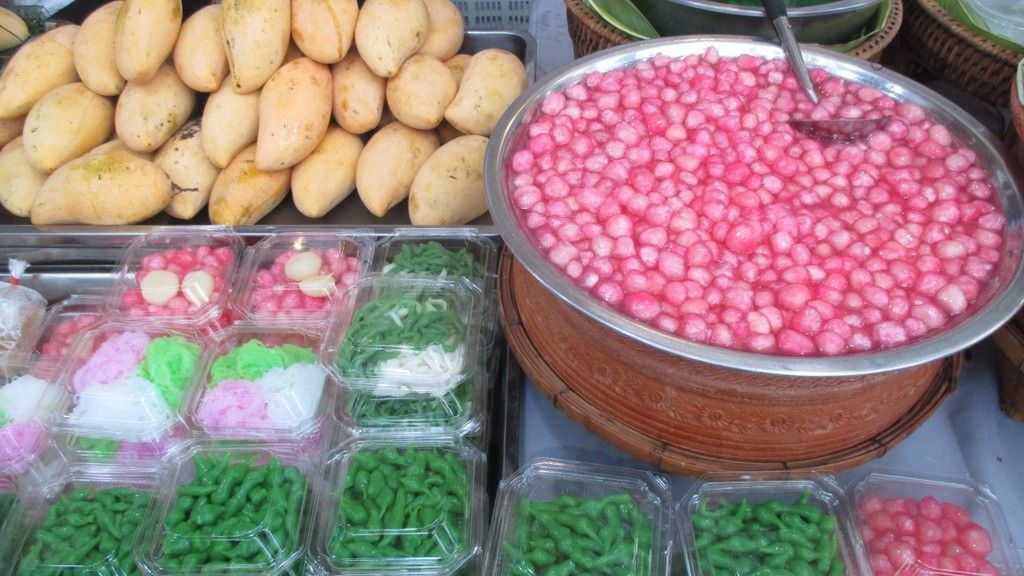 Below are more examples of very cute Look Choop. Aside from fruits, there are some that are shaped like turtles, ducks, Hello Kitty, and even Doraemon! I wanted to buy the Doraemon ones, but I decided against it because wouldn't be able to eat them anyway. They look too cute to eat, and besides – eating Doraemon is just wrong.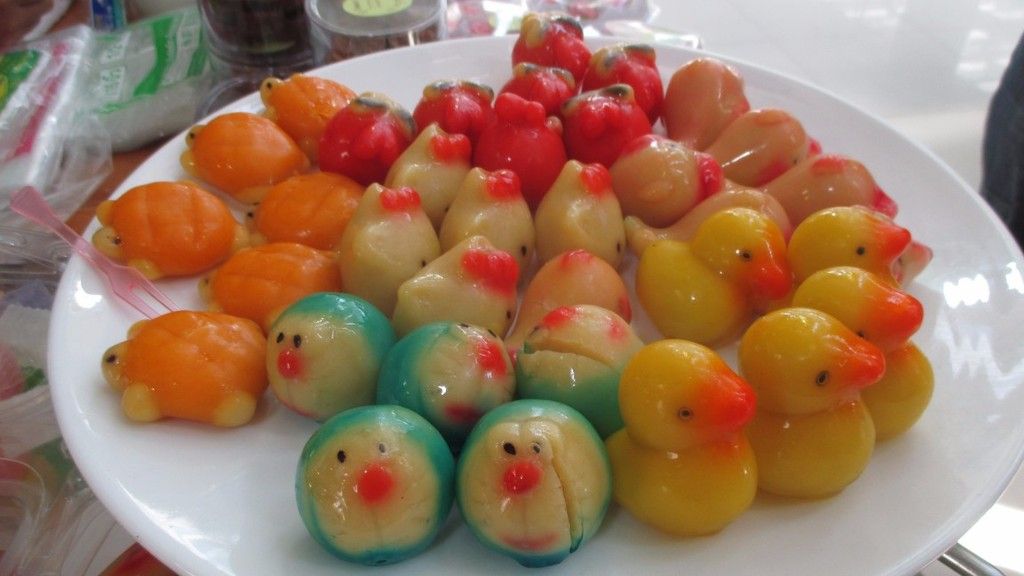 Below is I think Khanom Krok (ขนมครก or Coconut Rice Dumplings). These traditional coconut and rice flour dumplings are cooked into little kettle cakes and often topped with a choice of green onions, sweet corn, taro, and other items or just plain.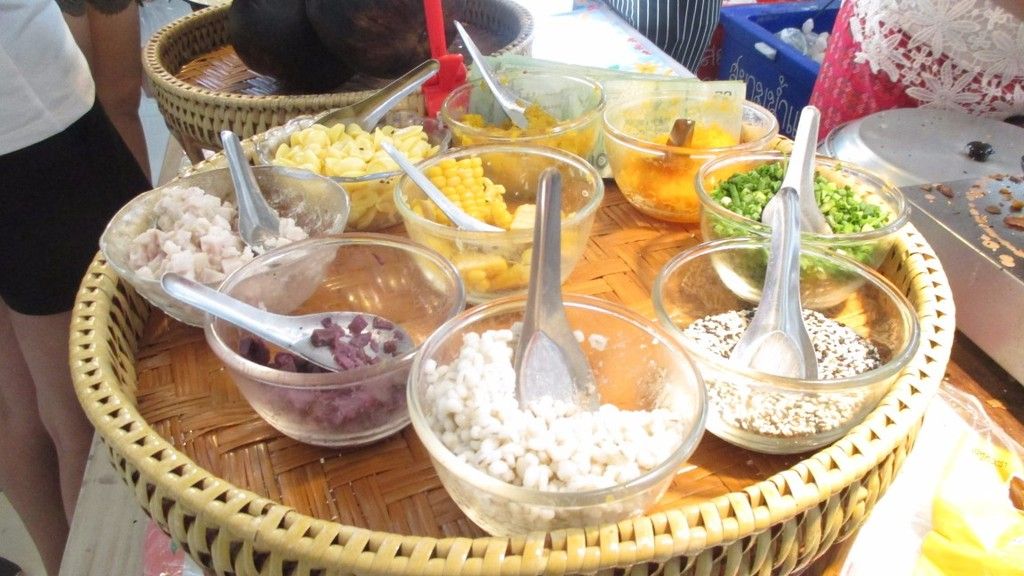 Barely visible in the upper left of the photo below is Takoh (ตะโก้ or Coconut Cream Jelly). Tapioca flour is mixed with heavy coconut cream, coconut pulp, and sugar, and the mixture is steamed to create an intense coconut custard. The purple and green desserts below the Takoh is Khanom Chun (ขนมชั้น or Thai Jello), which is sugar, coconut milk, and flour mixed and set in a cookie pan to firm and harden. The desserts on the right are Khao Neow Moon (ข้าวเหนียวมูน or Colored Sticky Rice) with various toppings.
Next we have what I think is Khao Tom Mud (ข้าวต้มมัด or Banana Leaf Sticky Rice) on the right of the picture below. To the left of that is Khanom Gluay (ขนมกล้วย or Banana Treat) which is sticky rice, bananas, sugar and shredded coconut made into a green treat, and in the top left is I think Khanom Thien (ขนมเทียน or Sticky Cake), which is tapioca flour and peanuts made into a wet cake and wrapped in a banana leaf.
In the middle of the photo below is I think Putsa Cheum (พุทราเชื่อม or Candied Chinese Date), and above them are thinly sliced Gluay Kaek (กล้วยแขก or Fried Sweet Bananas). The other packets have various other dried fruits.
To drink, I had Wun MaProaw On (วุ้นมะพร้าวอ่อน or Iced Coconut Jelly). It's something in between kaong and nata de coco but thickly sliced.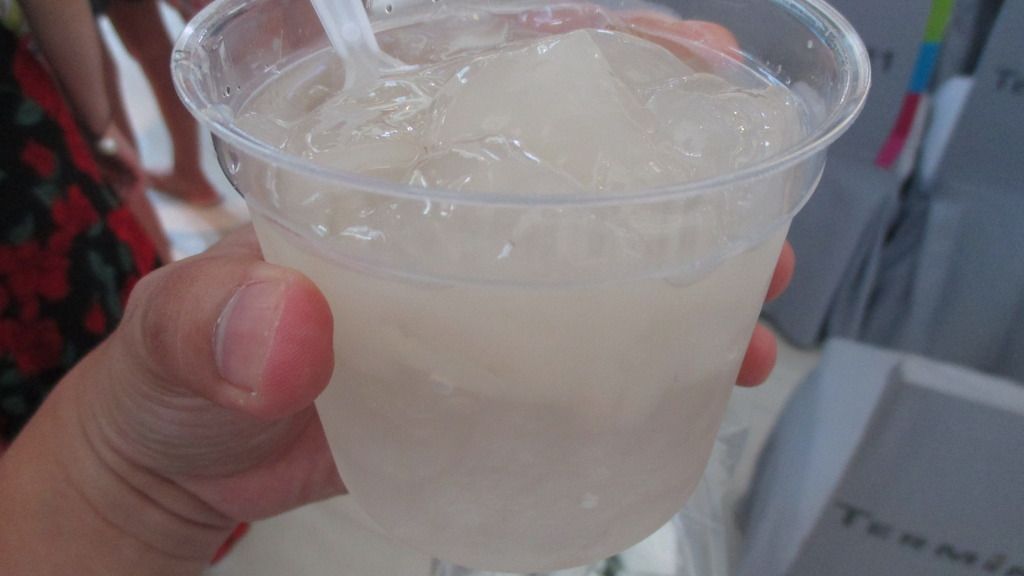 And finally these are Candy Rerai and Cho Muang. They look like dessert dimsun, but I'm not really sure because they're not on Migrationology.com. Next to them is something that looks like pretzels.
So I haven't actually tried most of the desserts above. I only bought the Takoh and Wun MaProaw On because I really, really LOVE coconut jelly. I'm super proud of myself for resisting buying everything else I saw. I'm not so sure though that I'm going to be able to resist again the next time I pass by the dessert stalls. Oh well.