Shane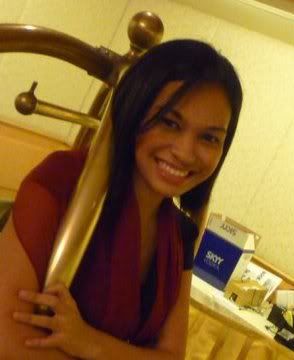 Shane's email:
Hi Josef!
I am Shane Danas, I've seen your blog and I'm interested 🙂 Attached are my pictures.
My most recent picture is picture 1, taken last Sunday. I am the one wearing black. Picture 2 and 3 were taken last October. The last picture is my "love interest." We've been "getting to know each other" for a year now, but we don't have a picture together since we only meet once or twice in 2-3 mos.
Here are my questions:
1. Although I hate to ask this and this seems so HSish, I want to know what will happen to my lovelife. It has been rocky since last year. I broke up with my boyfriend of 2 years and of course until now things are complicated with him, but I've moved on already. Then this guy I really like (in the picture) came along but I'm really confused what he's up to. I mean, it's been a year now, but things with him are complicated. So, is there a future for me and this guy? Or someone else is "destined" for me? When will a happy love life come my way?
2. My career is doing fine now, but I also want to know how will it be for the next five years. Will I be staying in Events Mgt or I'll be venturing into another field? Will there be big opportunities to come? How about next year? Masters?
3. Will I have a happy married life? Children? How soon?
Thanks a lot! You can post picture 3 and my name 🙂
Shane Danas
———-
My reply:
Hi Shane! Thanks for sending your photos. Here are my answers to your questions:
1. I agree that you're over your ex. I see that you don't really think about him anymore, and that's a good thing. If there are still some unresolved issues between you, they're probably never going to get resolved. Not that it's really a problem. As for this 2nd guy you're interested in, I realize that you don't see each other often, but if you have allowed 1 year to pass without taking at least 1 photo of you two together, then you're probably not as interested in him as you think you are hehehe. Pati uhm, are you sure he isn't gay, or at least bisexual? I get that feeling, but honestly I can't really tell cuz he has sunglasses on and is looking away in the picture. Send me a clear pic of his face and I'll confirm it for you haha. So no, this 2nd guy is not the one for you. However, I do think you'll meet the guy you'll eventually marry sometime late next year, maybe in November. You'll have a pretty long relationship before you get married, something like 4 or 5 years. Your 1st kid I think will be a girl, and you'll have her in the next 2 years with this same guy. Yes, I think you'll have the kid before you get married.
2. I don't see you changing field, so yes, it looks like events management is the career for you. The opportunities you get won't start out as big, but you will from time to time get small projects you can manage independently, and these will eventually lead to bigger things. Your career trajectory is slow and steady, though in the end I think you'll be surprised at how much you've been able to accomplish. Taking up a Masters degree is a good idea, but more for your own personal growth and self-fulfilment, not really to further your career. With or without a Masters, your career will still continue to grow.
Hope that all helped. Let me know if anything was sablay. And send me the 2nd guy's photo where I can see his face. I wanna know kung tama hula ko sa kanya. Hahaha.