I have always loved Thai food. I've written previously about how much I love Indian cuisine, and what I love about Thai cuisine is that it is a delicious mix of Filipino/Southeast Asian flavors (fish sauce, shrimp paste, etc) and Indian influences (curry, chili powder, etc). Though I haven't really had the time to explore Bangkok quite yet, as I'm still quite focused on settling down both at work and in the city in general, I do intend to post as much as I can about what I am able to discover here. Thai cuisine will obviously be a big part of that.
I'm quite lucky because my hotel is in a part of Bangkok called Sukhumvit, and this is the area where a lot of the expats live. Consequently, in Sukhumvit there are tons of restaurants featuring cuisine from all over the world. Right near my hotel for example, aside from the Thai restaurants, there are are restaurants and pubs for Indian cuisine, Greek cuisine, Japanese cuisine, American cuisine, and others that I'm sure I haven't even noticed yet. You'll also see sidewalk restaurants similar to the one below that are I guess the equivalent of our carinderia or turo-turo in the Philippines. You really are spoiled for choice when it comes to choosing something to eat.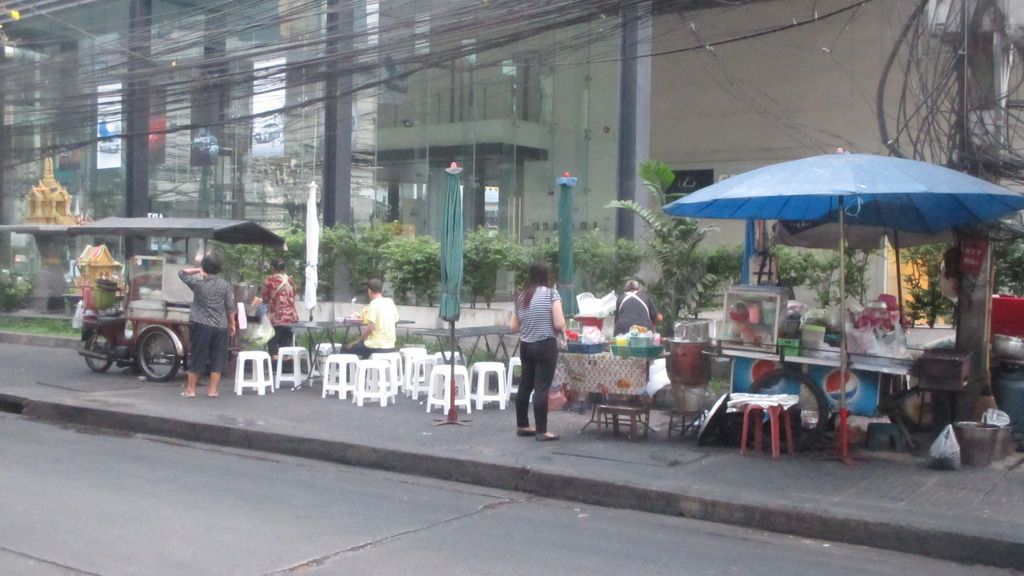 For breakfast, I normally have fruit (or ผลไม้ in Thai). I have yet to figure out where all the public markets are, but lucky for me there are sidewalk vendors that sell fruit and package them in very convenient packets. In the past week alone, I've had papaya, chico, pineapple, and mangoes with bagoong or shrimp paste. Each packet is THB 20 (approximately PHP 30 or USD 0.60) and, seriously, one packet is more than enough to last me until lunch. Today is a Saturday though and I was hungry earlier, so I bought a packet each of papaya and pineapple.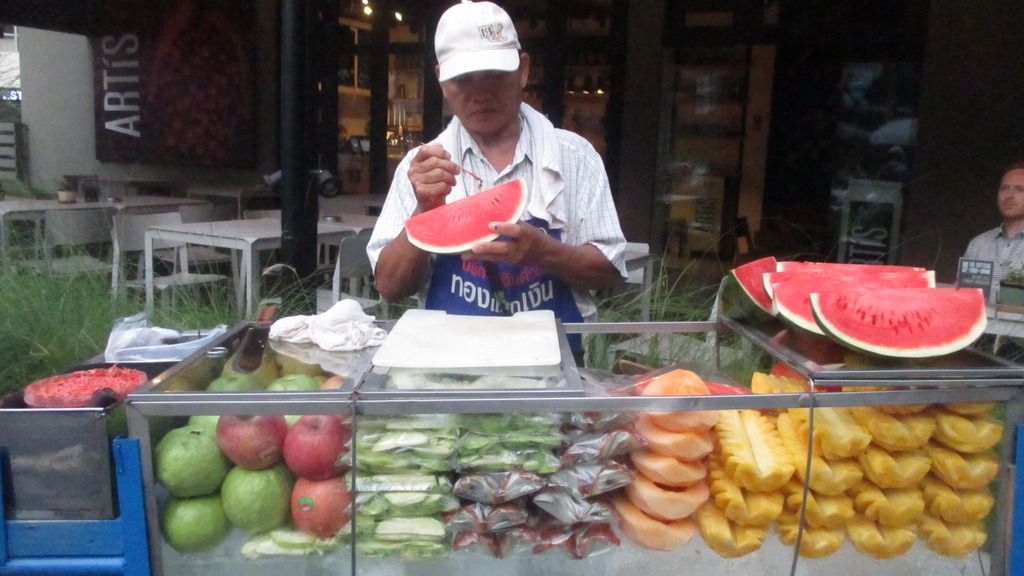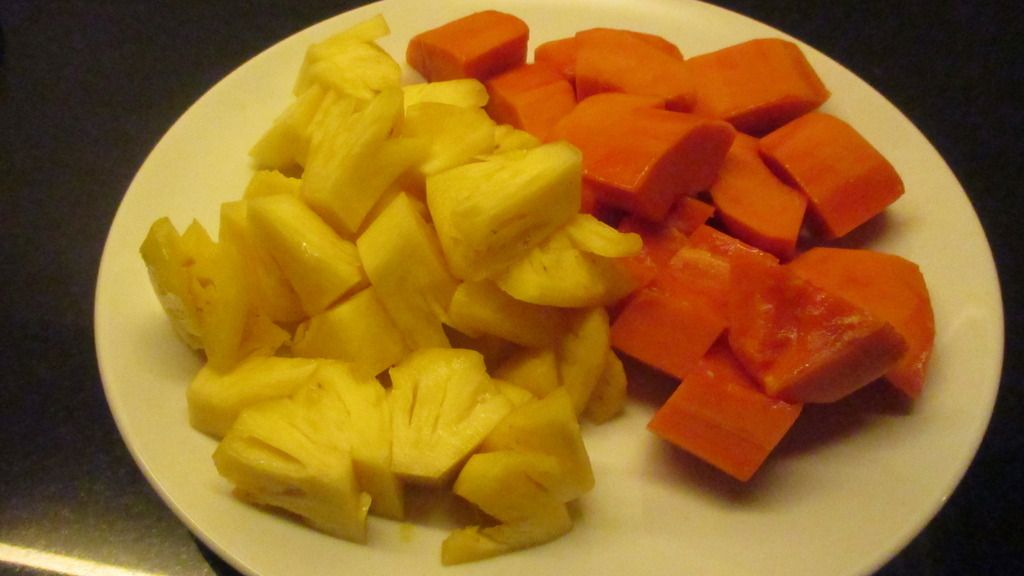 There are other options of course, but I panic whenever I think about how to explain to the vendor what I want to buy. Just the other day I was salivating in front of one sidewalk cart selling these veggie meals that they were making fresh on the spot, and because I didn't know how explain what I wanted and because there were a lot of locals cutting in and out of the queue, I walked away and just bought something from 7-Eleven. I managed to buy something tasty, but it was not quite as tasty I'm sure as freshly made food.
Thankfully though, this morning I noticed that there was a vendor selling freshly made breakfast right outside my hotel. There weren't a lot of people around, so the vendor had time to let me point at what I wanted. I picked 2 viands, and thanks to eatingthaifood.com's article on Thai breakfast food dishes, I've been able to figure out that I bought Khao Rad Gaeng (ข้าวราดแกง) or rice and curry. I'm eating it without the rice though. The vendor also gave me some raw cabbage, eggplant, and what I think is pak nork (according to my search on Google Images). I'm not sure if I'm supposed to, but I'm planning to just blanch these and eat them with the curry. I'll have this for lunch later since I'm already full from the fruit. Total for the two packets of curry and the veggies: THB 50 (approximately PHP 75 or USD 1.50).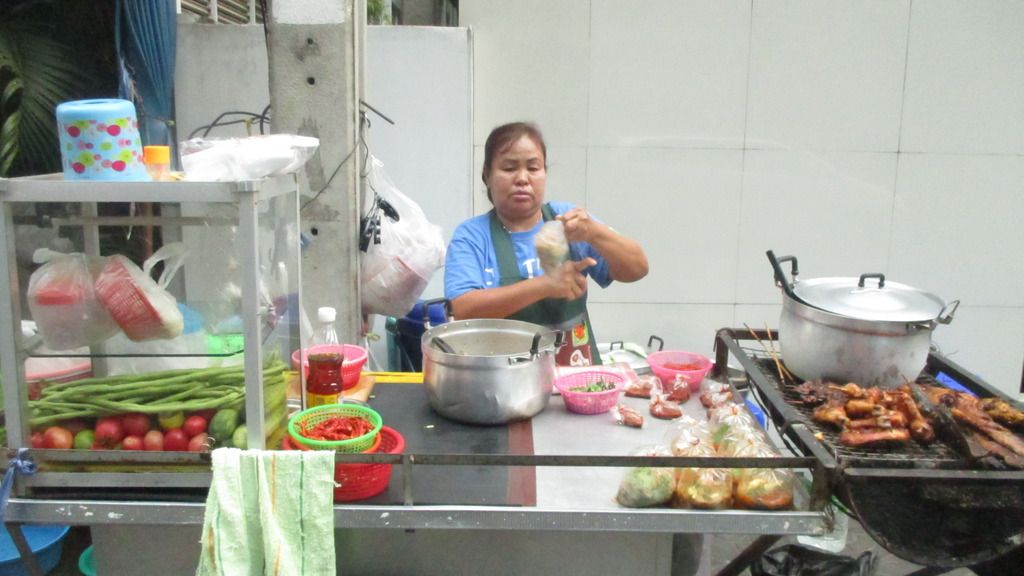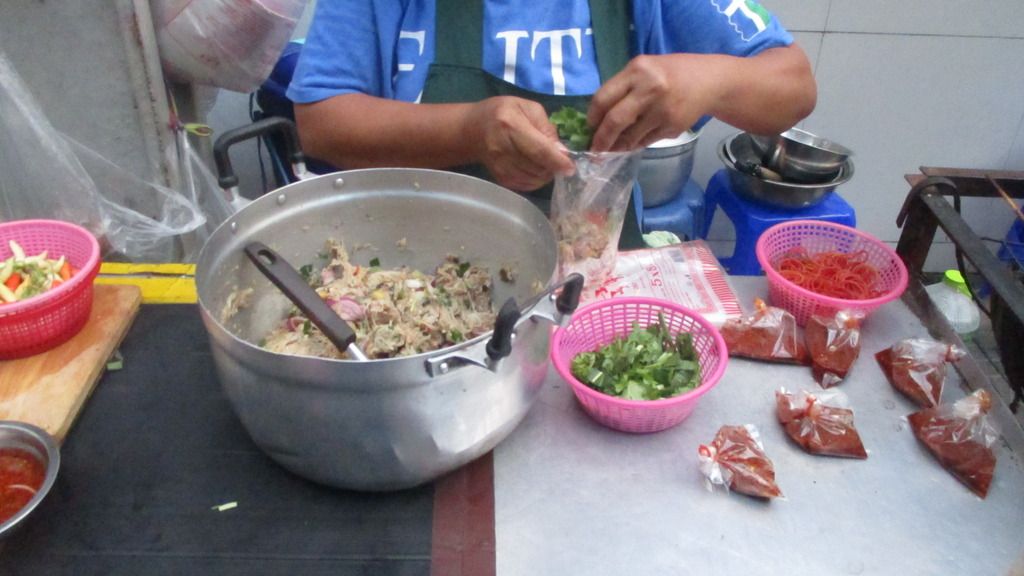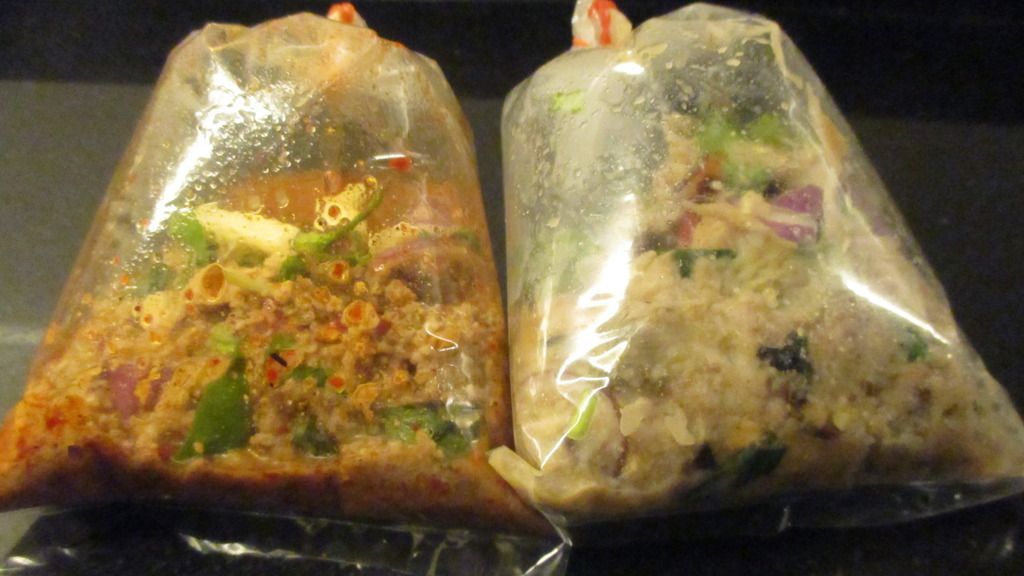 Manang vendor was also selling chicken and pork barbecue, which here is called Gai yang (ไก่ย่าง)
and Khao Neow Moo Ping (ข้าวเหนียวหมูปิ้ง). I didn't buy this though. Maybe on another day.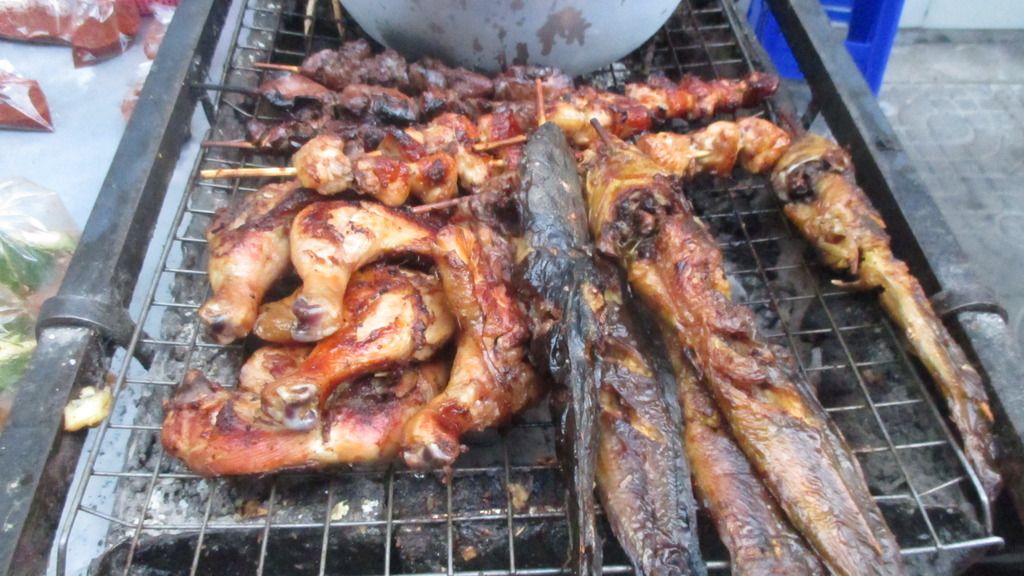 So you can see why I'm bit worried that I'm going to be morbidly obese by the time I visit the Philippines for Christmas. I really hope that the apartment I find has either a gym or a swimming pool. I'm definitely going to need it. Whether I actually use it is another thing though. Hehe.