I previously wrote about the food I've had for breakfast here in Bangkok. Here are some of the new things I've tried from street food vendors along Sukhumvit 18. Everything is delicious, everything is spicy, and except for the one time I had chicken barbecue, I've never had to spend more than THB 60 (approximately PHP 90 or USD 1.45) on a meal.
1. Fresh payapa salad, or Som Tum (ส้มตำ), which I had with semi-ripe green mangoes. The som tum that this vendor made had small salted crabs, called Boo Kem (ปูเค็ม), and when I salty I mean SALTY. But extremely tasty as well. The bottle you see behind the packet of mangoes is Floating Market Coconut Nectar (น้ำตาลสด ตราตลาดสด). I am so in love with this drink, and it worries me a little that I am because I don't want to get diabetes but I just can't stop drinking it. It tastes like buko (young coconut) juice with brown sugar, but that description doesn't really do it justice. It's liquid crack — and I'm addicted.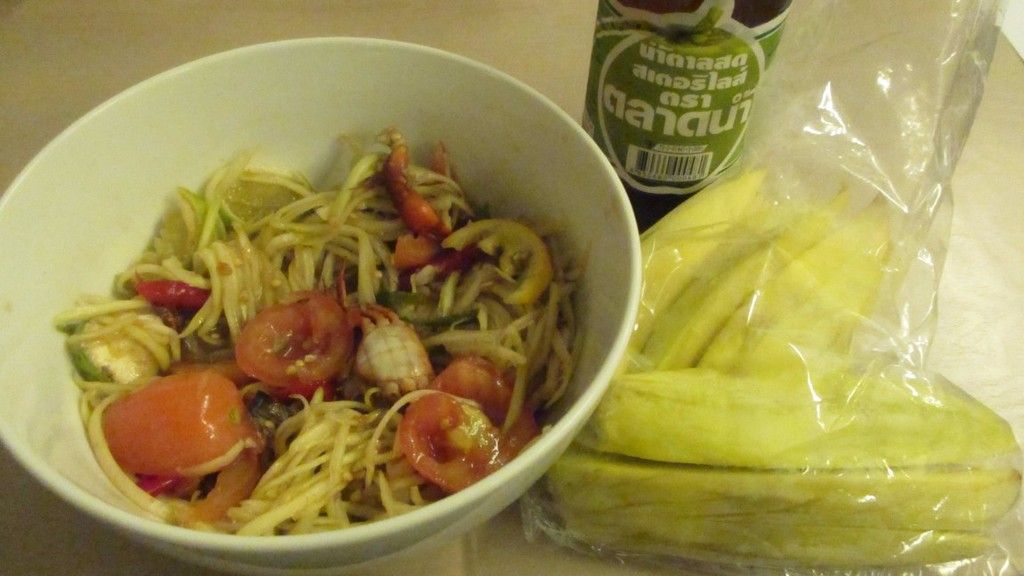 2. I had another version of Khao Rad Gaeng (ข้าวราดแกง), or rice with curry, and this time with ground pork and egg.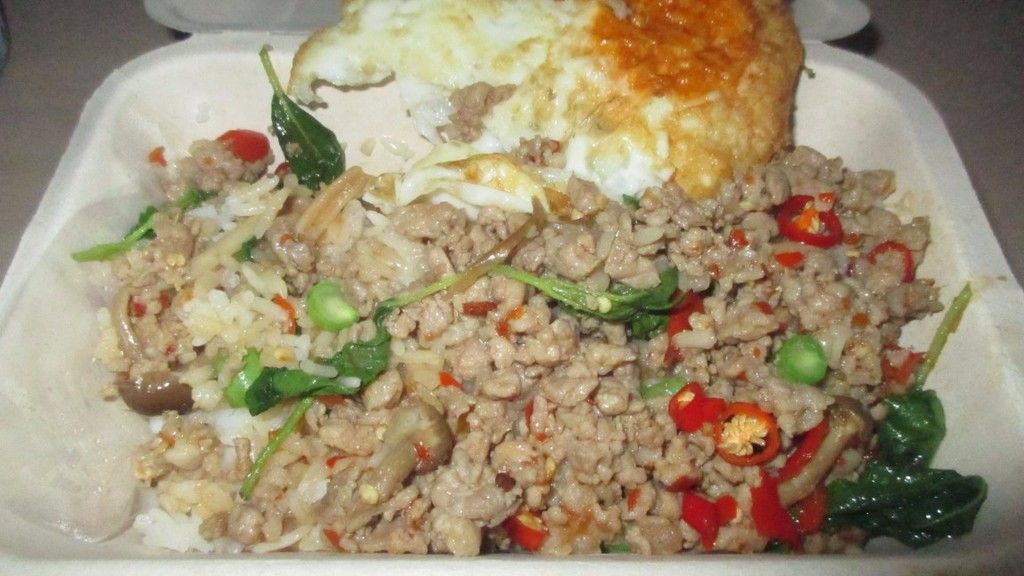 3. I finally tried chicken barbecue or Gai yang (ไก่ย่าง), also with Som Tum. This cost THB 90 (approximately PHP 145 or USD 2.60), and it goes without saying that it was very delicious. What's not in the picture is the barbecue sauce, which was a mix of tamarind sauce, fresh chili, and coriander. The sauce was so heavenly that I'm salivating right now just thinking about it.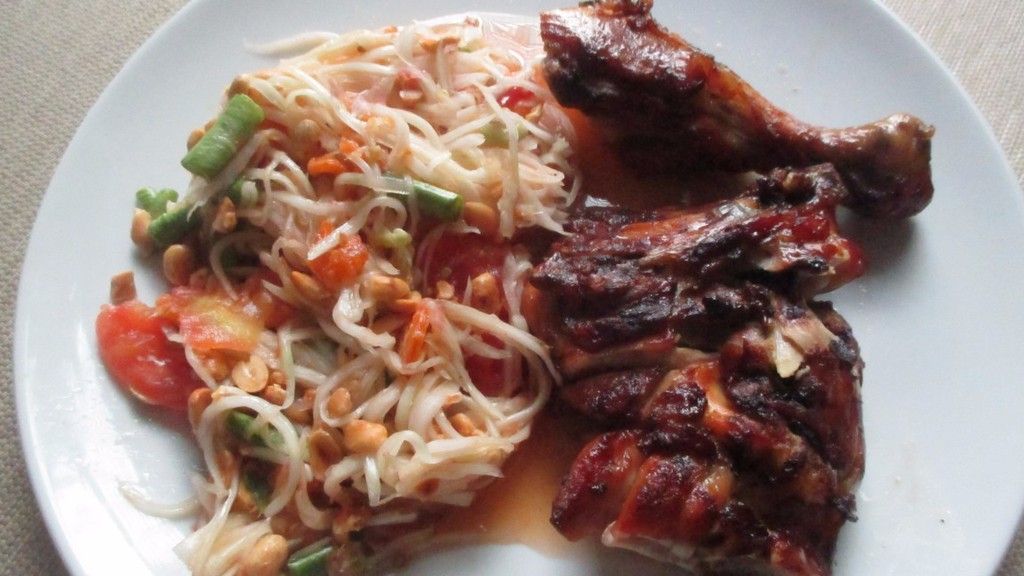 4. I had a soup made from taro leaves for breakfast once. It's kind of like a soupier version of Pinoy laing, but without the coconut milk. I don't know what the Thai name for it is though, and I can't find it in Google. Sorry about that.
5. Mushroom salad is called Yum Hed (ยำเห็ด), I think. I had this for breakfast this morning with tamarind and chili paste. The mushroom salad was very light, and it went very well with the paste. I'm not sure if they were really meant to be eaten together, but they came in the same packet so I guess so.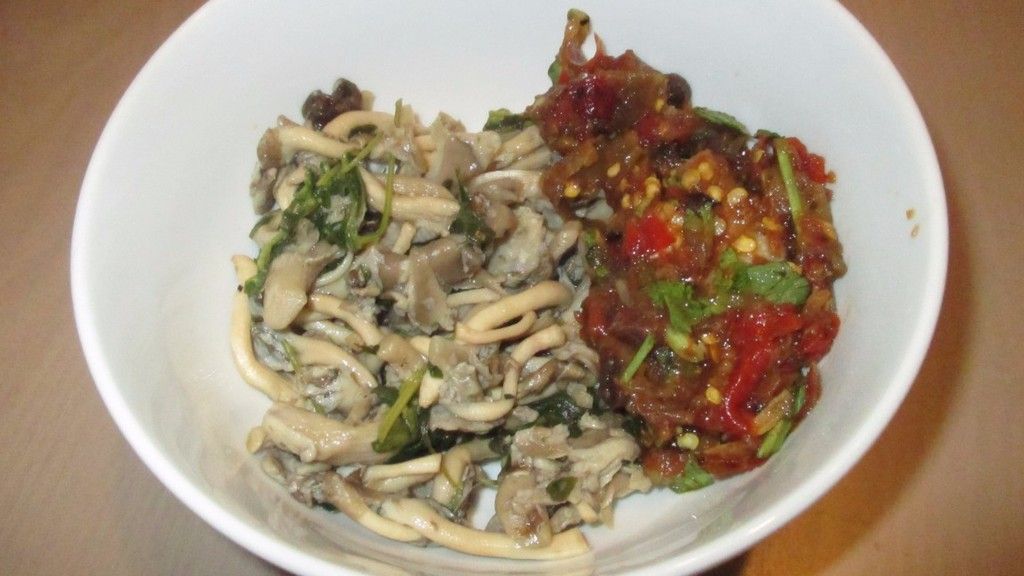 6. I also had spicy clam salad or Hoi Lai Ped today, which was amazing because I haven't had shellfish in a while. I guess local Thais would probably have had this for lunch, but I had it for breakfast because I was so excited to eat it that I couldn't wait. I was not disappointed.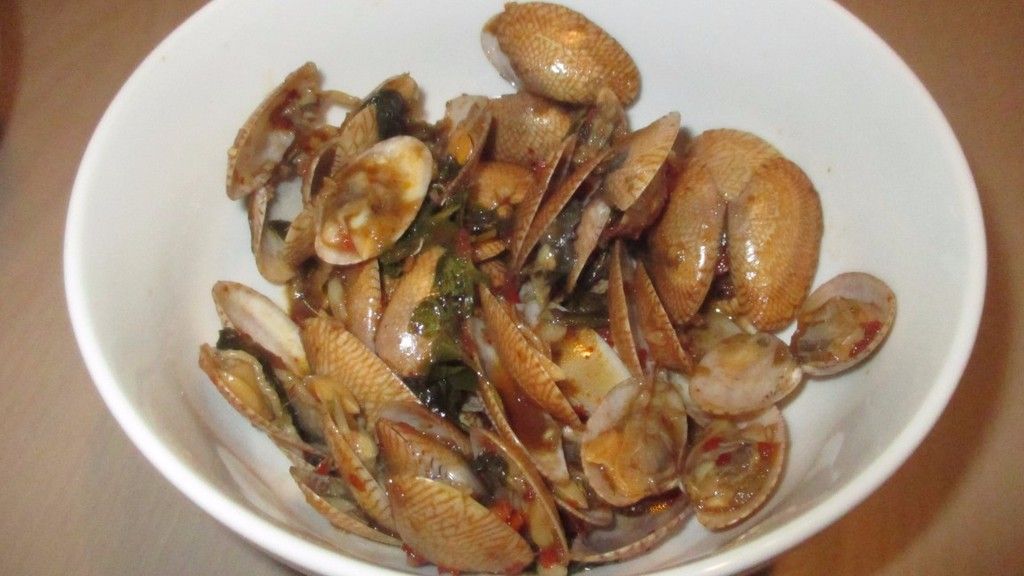 So I have 2 problems when I write posts like this: first, I'm always hungry after, and second, I get very worried that I'm never ever going to lose weight. But yeah, I'm still new to Bangkok, and I really want to try everything, so I guess it's fine. Happy eating! 🙂