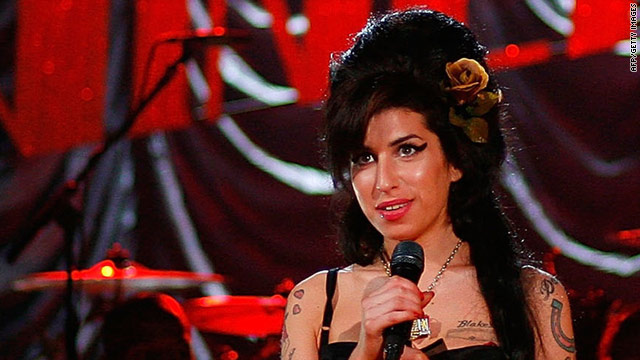 AMY WINEHOUSE
1983 – 2011
Back in late 2007, life was pretty crappy for me. I was in a dying if not dead relationship, I was heavily in debt, and the changes going on at work were stressful. It was a period when I was pretty much existing but not living, and in a lot of ways I felt trapped by my circumstances. As I always do when I'm depressed, I tried listening to as much music as I could, because music always seems to help me pull through whenever I'm down. Enter Amy Winehouse.
I had been hearing a lot about Amy Winehouse before I started listening to her music. She was this crazy chick who was always high and getting into public fights with her boyfriend. But everyone was raving about her music. You could argue with the way she lived her life, but you couldn't argue with her music. If I remember correctly, it was Mother Domeng who introduced me to the website where I could hear her music. The first song I heard from her immediately got me hooked. "What kind of fuckery is this"… from "Me and Mr Jones". I was completely fascinated. The mood and feel of the song was of the 50s and 60s, but the lyrics were extremely contemporary. Damn, she invented her own swear word. It was unlike anything I had heard before. And that voice. However immature she was in real life, in her records she sounded like the oldest soul on Earth.
Within an hour of listening to some of her tracks, I knew I loved her. I loved her jazzy music from the Frank album as well as the 60s R&B girl-group songs from Back to Black. I especially liked the songs where she sang about her relationships, because they completely and accurately described how I felt about my relationship at the time. As much as I love Adele, no one quite does heartache and heartbreak quite like Amy. Listen to songs like "I Should Care", "Love Is A Losing Game", and my all-time fave Amy Winehouse song "He Can Only Hold Her". I dare you not to cry after listening to those songs on repeat.
As good as Amy does heartbreak, she also does love really, really well too. "There Is No Greater Love" is probably one of the simplest yet sweetest love songs, and if "Best For Me" doesn't make you want to fall in love then I don't know what will. Amy even does twisted love well too. "I Heard Love Is Blind" is a song about how Amy justifies cheating on her boyfriend by saying the guy she cheated on him with reminds her of him. This might sound weird, but after listening to that song, I totally understood how open relationships are possible. And of course, there's her love for weed, which she clearly expresses the most cheerful and bubbly way possible in the song "Addicted". I don't love weed myself, but I love when Amy sings about it.
I was ecstatic when Amy won all those Grammys in 2008. I was genuinely thrilled, because it meant that other people loved her music as much as I did, and that meant that it wouldn't be long before we heard new music from her. Of course, we all ended up waiting and waiting and waiting… Mother Domeng and I even joked at one point that with all the shit she kept getting herself into, we hoped that she would get at least one album out before she died, cuz she seemed to be on this path of self-destruction. And then yesterday she did die.
I heard she died from Milo. I didn't believe it at first because it was the nth time I heard that so-and-so artist was dead, and it usually ends up being false. But then I went to CNN.com and there it was. Amy Winehouse's death was one of the top stories. I started reading stories about her, I read all the Twitter tributes from various artists, and I was in a very solemn mood. I was sad, but I didn't realize how sad until this morning when I woke up and started listening to her music again. A few lyrics into "Me and Mr Jones" and I was sobbing. For most people, Amy Winehouse was this stupid, crazy, tweaked out singer who they only knew because she was always on the news for being either drunk, high, or in rehab. For me, she was the artist who helped me get through a disastrous 2007. I will always be grateful for how her music helped calm me down. She might not have been successful at getting through rehab herself, but her songs were my own personal rehab for the shit I was going through. As the hours go by, I realize more and more how devastated I really am.
I believe that when we die, we get to see the full extent of how our actions have affected the people around us. Yes, Amy will most likely see lots of shit cuz of the drugs, drinking, and all the other crap she did. But I do hope that most of her life review is spent on how her music affected people positively, even if affecting people positively wasn't her intent as she was living her life. Amy: I will miss you so much. Your music lives on, and though I'm happy you're one with the Universe now, but I'm sad that now I have to wait until I get to heaven before I hear new music from you. I hope now you can finally find the peace you never found here on Earth.
"Me and Mr Jones"
Amy Winehouse
Nobody stands in between me and my man, it's me
And Mr Jones (Me and Mr Jones)
What kind of fuckery is this?
You made me miss the Slick Rick gig (oh Slick Rick)
You thought I didn't love you when I did (when I did)
Can't believe you played me out like that (Ahhh)
No you ain't worth guest list
Plus one of all them girls you kiss (all them girls)
You can't keep lying to yourself like this (to yourself)
Can't believe you played yourself (out) like this
Rulers one thing but come Brixton
Nobody stands in between me and my man
'Cause it's me and Mr Jones (Me and Mr Jones)
What kind of fuckery are we?
Nowadays you don't mean dick to me (dick to me)
I might let you make it up to me (make it up)
Who's playing Saturday?
What kind of fuckery are you?
Side from Sammy you're my best black Jew
But I could swear that we were through (we were through)
I still want to wonder 'bout the things you do
Mr Destiny 9 and 14
Nobody stands in between me and my man
'Cause it's Me and Mr JOnes (Me and Mr Jones)